What a grand final! What a win! What unbridled emotion! 
The Penrith Panthers 3PEAT is done. Split Enz once sang about how "History never repeats". They were right until the current Penny Panthers had anything to do with it! They have done what no other team in 40 years has been able to do, win back to back to back premierships!
Not since our neighbours Parramatta back in 81,82 and 83 has the task been completed. There have been a lot of good teams try the feat but all to no avail. It's an unbelievably proud time to be a Panther.
In a grand final that had absolutely everything, it came down to the final three minutes of a pulsating game of rugby league. Where does it rank? Recency bias always plays a factor but for mine its up there with the 1989 epic between Canberra and Balmain and the 2015 big dance that saw the Cowboys secure their first ever trophy over their big brother the Brisbane Broncos.
If you were like me and our house full of 50 Panther fans, the game looked gone with 20 minutes to go. Especially after Broncos young gun Ezra Mam scored an awesome hat trick of tries between the 44th and 55th minutes of play to make the score 24-8 Broncos way with 17 mins remaining on the clock. Tick..Tick..Tick
Then BOOM! Enter the Iceman!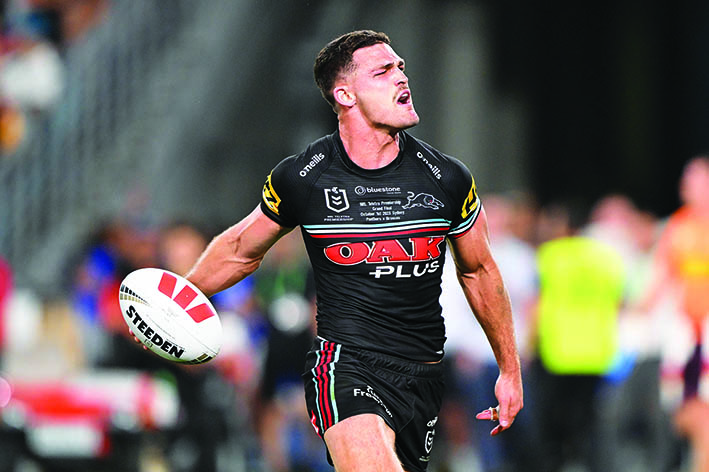 Nathan Cleary, in his greatest 20 minutes ever, in fact perhaps the greatest 20 minutes by anyone ever in a grand final, decided enough was enough.
He first broke free to link up with Menacing Moses Leota to put him under the posts on the 63rd minute. 24-14. Tick..Tick..Tick..
Then in the next set after the kick-off, Cleary kicked a 40/20 on the 3rd tackle. In the ensuing set of six at the 67th minute Bulldogs bound Stephen (he'll be missed) Crichton crossed in the left hand north western corner. Cleary converted from the side-line. Broncos up 24-20! GAME ON! Tick…Tick…Tick..
The next 10 minutes were an old fashioned arm wrestle with both teams playing sudden death footy. Astonishingly the Panthers completed 37 from 38 sets in this game. Mind blowing to be honest. But there was still lots of ebbing and flowing taking place.
Then with just over 3 minutes to go on the clock the underrated Mitch Kenny and Jack Cogger simultaneously controlled a set of six that had the Panthers only 10 metres out from the Broncos line.
Enter Nathan.
With the ball looking like it was going to go through the hands to the left wing, Cleary pivoted, dummied, darted, swerved and stepped off of his left foot to beat 1..2..3…4…. broncos players to put the ball down under the posts to level the scores with a kick to come! Tick…Tick…Tick..BOOOM!
Over the posts the conversion went, Panthers 26 Broncos 24- 90 seconds to go on the clock. The rest is history..
Penrith Panthers NRL Premiers for the 3rd consecutive season. Totally mind-blowing.
Obviously Nathan Cleary was the Clive Churchill man of the match recipient. But his support staff were just as freaking good. Dylan Edwards, make that 'Australian player' Dylan Edwards was EPIC! He ran for 300 metres! How was he left out of the initial 21 man Aussie squad?
"Smash and Crash" Moses and James Fisher-Harris were sublime, Brian To'o was at his powerhouse best, Critter as I said earlier will be missed, Yeoy was superb…. actually as they all were.
And for the beaten team? If not for a bloke called Cleary, Ezra Mam is man of the match by a mile. Pat Carrigan, Thomas Flegler and Herbie Farnworth also all tried their collective arses off in a gripping finale of the 2023 NRL season.
Now its time to really be the hunted in season 2024 for the Panthers, but you get the feeling "SuperCoach" Ivan Cleary wouldn't have it any other way!
Thanks for reading my column this footy season, I've had a blast as always.
Cant wait to see you at the game…
May the '4th" be with you!!!
Don't forget, if you're looking for a new car contact my great mate at Sinclair Hyundai, Toby Hughes.
MG (random Westie) OAM