IN the 14th minute of last Sunday's game between the Panthers and the Dragons, the 17,000 hearty Panther fans at the game all held their collective breath. Star playmaker and co-captain Nathan Cleary clutched at the back of his left leg as he grimaced in pain. 
As he tried to hobble back into the defensive line it was quickly evident that he'd either pulled, strained or torn his hamstring.
Scan results on Monday morning confirmed the Panthers and NSW Blues worst fears, a grade two hamstring tear which will see him out of the game for up to 6 weeks!
You knew it wasn't going to be the news that everyone wanted by the way in which he limped from the field somewhat resigned to the fact.
Nathan Cleary is a real tough footballer, one that leaves no stone unturned when it comes to his own strength and fitness. His mental application is also up with the game's best too. So you just knew by the way in which he reacted that the injury was significant.
Playing 80 minutes of State of Origin only 4 days prior wouldn't have helped.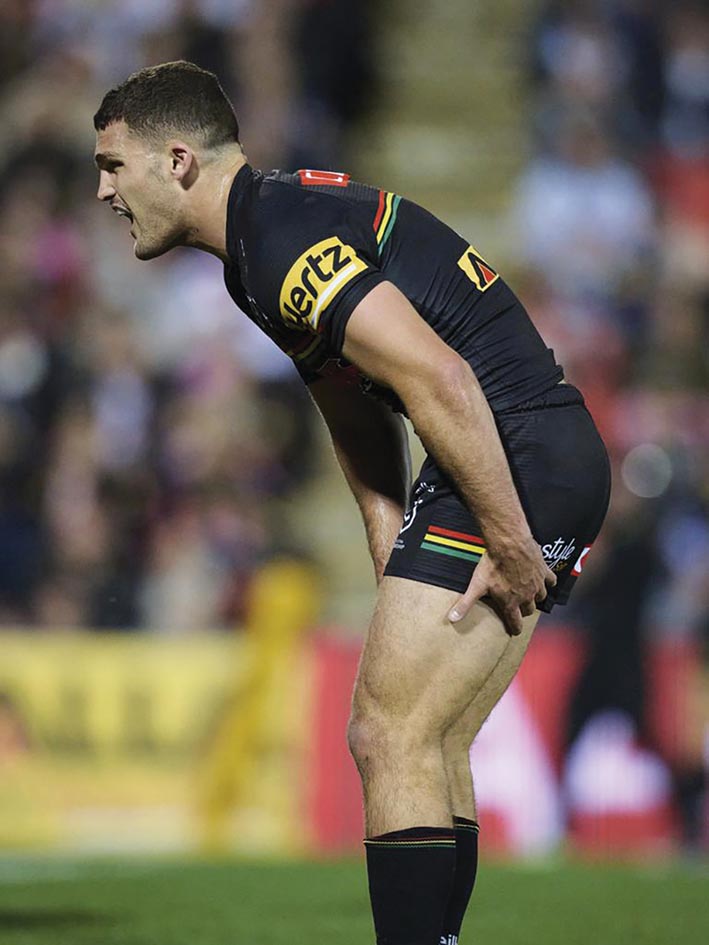 Remember Rueben Cotter after game 1 of last year? He was warming up on field about to play the Sea Eagles a few days after origin 1 when the exact same thing happened to him.
Then on the weekend Jai Arrow and Cam Murray both succumbed to injuries as well. The way in which our game and its players have exploded with size and strength is quite eerie. Players who play in Origin, which is the fiercest form of our game, probably shouldn't be playing a club game 3 or 4 days after the brutality of Origin. But how's that fair to the clubs or the fans? It's not. But what's the solution?
Play origin once the season has ended? What, and risk more injury for the players who make origin but haven't played in finals footy? No way. Shut down the comp mid season and play 3 straight weeks of origin on concurrent Wednesdays? The broadcasters wouldn't like it but I think its the only fair thing to do.
You could subsidise the lack of NRL games over those 3 weeks with test matches between NZ, Samoa, Fiji, PNG, Tonga …..etc, from all of the players ineligible from playing Origin.
You could play 3 games of the women's Origin over the 3 week layoff as well. Sometimes our rugby league players have to be protected from themselves as they'd play every day if they had to, and injuries are always going to be a part of our game. But asking our best to play 3 or 4 days after leaving the origin colosseum is almost cruel!
See ya at the game!
MG (random Westie) OAM