ROUND 18 of the NRL certainly dished up some eye popping results.
The Sharks 52 points to 16 winners over the Dragons. The Rabbitohs bouncing back across the ditch with a gritty win over the Warriors 28 to 6. The Raiders bouncing up to 5th position on the ladder with a hard fought 26-22 contest over the ever improving Titans.
But there were three games in particular that caught my eye. I'll get to the Panthers emphatic win over Melbourne later, but first the two games that would be making the NRL very anxious about future expansion dreams.
On Saturday night in Townsville it was always going to be hard for the Tigers to replicate their round twelve 66 points to 18 win over the hapless Cowboys, but what most of us didn't see coming was a brutal turnaround by the Cowboys to prevail 74 nil!
Awful stuff from the Tigers, whose fans must be thinking what the ….?
We didn't have to wait long to see the second flogging of round 18. The very next day on Sunday the Bulldogs hosted the under pressure Newcastle Knights. In what was a game that most thought could have gone either way prior to kick off ended in a bloodbath. The Knights blowing the Bulldogs off the park 66 nil!! To not even score a point in both games from the Tigers and Dogs is the most worrying concern.
Expansion of another team in our comp has been beefed up of late with several regions vying to be the 18th team, but with floggings like we saw last weekend, the powers that be would be more than troubled with the obvious lack of first grade talent.
Now onto the Panthers game against the Storm. On Friday night in Melbourne the hosts skipped out to a 14 point lead and given the fact that Nathan Cleary wasn't playing it seemed doubtful the Panthers would fight their way back.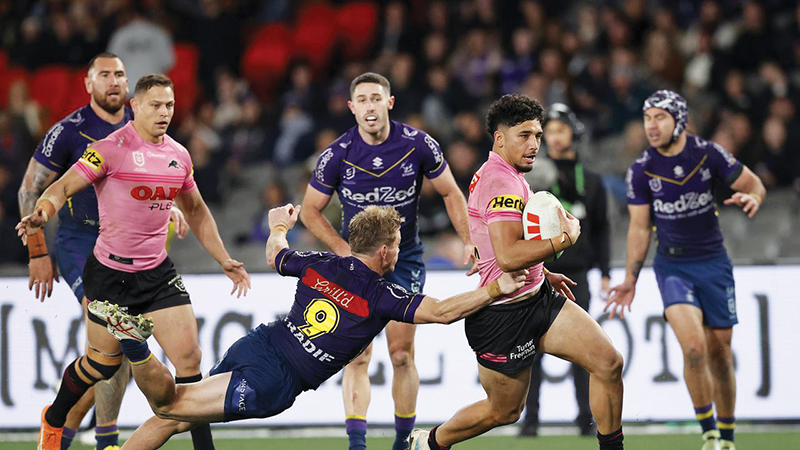 Enter Izack Tago.
In what was his best performance in a Penrith jersey, Tago was virtually unstoppable as the Panthers made a massive statement against the team who most think will be there against Penrith on grand final day.
But after a 34 to 16 drubbing, those calculations may need to be re-evaluated.
And when you consider both the Cowboys and Sharks have had 50 put on them this season, and history tells us that any team who has had 50 put on them hasn't been able to win the comp, you'd have to say its down to 3 or 4 teams. If you had to ask me right now who do the Panthers play on grand final day this year?
I'm going for a repeat of last year's Grand Final Penrith v Parramatta!!
See you at the game…..
MG (random Westie) OAM